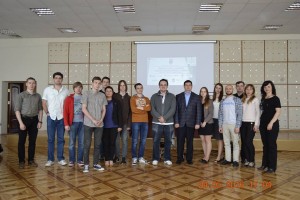 GameHub Project was presented at the seminar "Preparation specialists in the field of game industry", which was held at Kyiv National University of Construction and Architecture on May 24, 2016.
The seminar is aimed at the presentation and promotion of the international project "GameHub: University-enterprises cooperation in game industry in Ukraine" (Capacity Building in Higher Education 56128-EPP-1- 2015-1-ES-EPPKA2-CBHE-JP), sold under projects Erasmus + K2 cooperation for innovation and exchange of best practices. KNUCA is a partner in an international consortium of thirteen scientific and expert institutions of Ukraine and the European Union, which implements the project. The seminar was presented information on study tours KNUCA representatives to the University of Deusto (Bilbao) and the AGH University of Science and Technology (Krakow).
The seminar discussed the creation of an effective system of training and support for people who want to realize themselves in the field of gaming industry, especially the development of computer games and their market promotion, use niche games, particularly in the field of rehabilitation, technical and conceptual aspects of GameLab lab at our university and others.