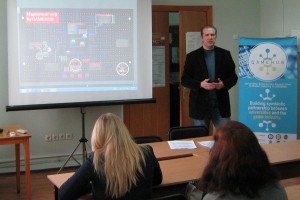 March 30, March 31 and April 3, 2017 GameHub-team of the Odessa National Polytechnic University opened a series of local trainings for employees of ONPU and the state educational institution "Odessa Center for Vocational and Technical Education of the State Employment Service. Training schedule!!!
The first training, of course, was the training "Marketing of computer games" under the leadership of Irina Zlatova, Ph.D., senior lecturer of the department of marketing at ONPU.
At the opening of the training with an opening speech were: Director of ICS, Doctor of Technical Sciences, Professor Antoshchuk S.G. and Head of Marketing Department at ONPU, Doctor of Economic Sciences, Vice-President of the Ukrainian Marketing Association, Oklander M.A. The speakers noted the importance of cooperation between marketers and IT-specialists in the direction of creating joint educational, scientific and commercial IT-projects.
The training program was rich and included such sections as:
presentation on key performance metrics of game marketing;

teamwork to find key metrics for the proposed game;

presentation of the Business Model Canvas in the game marketing system and its adaptation in the form of Gamification Model Canvas from the laboratory "Game On! Lab "(http://www.gameonlab.com);

team work on the description of the Gamification Model Canvas for the development of computer games of different genres with the subsequent presentation of the team's results;

presentation on the analysis of psychotypes of players as target groups;

individual passing of testing of psychotypes according to the Bartl test by participants of the training;

presentation on the types of game improvements;

work in a team to find ideas for improvements to the game in order to maximize user involvement and monetization;

presentation of the types of price strategies in the game and methods of monetizing games, key tools for involving the user in the game, the types of platforms for placing the game, the methods for promoting games and the principles of video games by James Paul Gee;

work in a team to develop the idea of ​​the game, its promotion and with the subsequent presentation of the team's work results.
GameHub-training, organized by the staff of the Department of Marketing and the Departments of ICS, was a small example of that ONPU is not a set of separate institutions and faculties, but a single educational system.